Here's a new easy way to raise money for SWACA that does not involve parting with extra cash!
Everyclick.com has launched a new way to donate – it's been christened "Give as you Live". It means you can search the web, shop on line from your favourite retailers, trade on eBay and raise money for SWACA
You get great search results from Yahoo!, content from leading shopping providers and access to all eBay auctions. Every search you make creates a donation for charity.
Our special address is http://www.everyclick.com/swaca, all searches, shopping and eBay activity made from here will raise money for us.
Make sure you sign up so you can track your giving – it updates every 3 minutes, you'll be amazed how quickly it adds up!
Everyclick has already raised over £5,393,578.96 for a wide range of charities around the UK.
Click on this link and register today!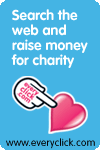 you can even start searching from here!